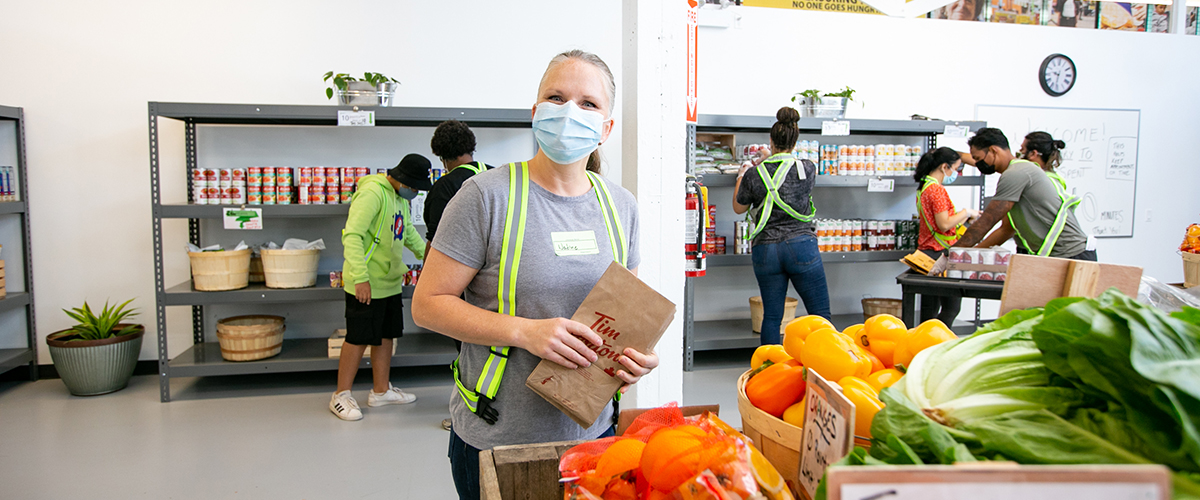 About Charity Intelligence – July 1, 2021 – June 30, 2022
About Charity Intelligence
Just as a financial analyst researches potential stocks to find the best investment opportunities, Charity Intelligence uses similar research methods to find exceptional charities for donors. Charity Intelligence also helps donors create a balanced giving portfolio to best reflect their giving interests and the change they hope to achieve. As a result, donors have the tools they need to give better and get higher returns on their donations – donations based on evidence.
This means that more of what donors can afford to give goes toward making a difference. Charity Intelligence's analysis goes beyond plain subjectivity or narrow financial analysis to dig deeper to arrive at those charities proven to be the best in their field: not just 'do gooders' but 'good doers', too
Daily Bread Food Bank is proud to be a Charity Intelligence top rated charity.
About Daily Bread Food Bank
Daily Bread Food Bank works towards long-term solutions to end hunger and poverty and runs innovative programs to support individuals living on low income and experiencing food insecurity. Daily Bread distributes fresh and shelf-stable food, and fresh-cooked meals to 128 member agencies and 193 food programs across Toronto. Daily Bread also publishes the influential Who's Hungry report – an annual survey measuring trends in food insecurity and poverty in Toronto to educate the public and spark policy change.
Take a tour of our facility!
Our Vision:  End hunger in our city.
Our Mission:  We collaborate with all to eliminate food insecurity and advocate for solutions to end poverty.
Our Values:
Rights-based: We believe that food is a human right.
Evidence-based: Our actions are informed by evidence and form impactful solutions.
Creative: We continuously pursue new and refined solutions to serve the needs of our communities.
Equitable: We embrace diversity of thought and actions and prioritize the voices of those affected by poverty.
Accountable: Commitments we make are commitments we keep.
Rights-Based Approach to Food
At Daily Bread, we believe that food is a human right, not a privilege. No one should go hungry or face barriers to accessing food. Our Rights-Based approach to food distribution means that we are committed to the following:
Providing low-barrier service as well as a choice of nutritious and culturally appropriate food at all food programs. We do not require documentation at food programs. We will facilitate access to food to anyone who needs it, regardless of circumstance, and enable food choice whenever possible.
Providing respectful and dignified customer service at all food programs. We will foster a welcoming and inclusive environment for all.
Empowering and prioritizing the people we serve. Our decisions will take into account the lived experience of the individuals we serve.
Advocating for the realization of the Right to Food. We will collaborate with groups and individuals to affirm food as a human right through robust advocacy for policies that encourage government bodies to act on the root causes of poverty.
Fostering a culture that reflects Rights-Based Approach principles and embedding practices in our ways of operating. From the Board of Directors, leadership, employees to member agencies, we will apply a rights-based lens to our work from governance, strategy, planning, delivery, and evaluation.
Embracing evidence-based decision making across the organization. We will leverage data, client input, and feedback in decision making processes, and leverage insights to continuously improve our programs, services, and operations.
Click here to learn about Daily Bread's 2021-2024 Strategic Plan.
Food Insecurity in Toronto / Canada
Food is enshrined in the International Declaration of Human Rights. Yet despite having signed on to this international agreement, over four million Canadians are food insecure.
Over the past twelve months, there have been 1.99 million visits to food banks, and demand is projected to push that number to over two million for the 2022 calendar year.
Based on the client food bank visits between April 1, 2021, to March 31, 2022, tracked by clients' postal codes, where available, in Link2Feed. (Note: tenant and drop-in food programs do not register clients through Link2Feed so are outside the scope of this geographic analysis.) The percent change was calculated by comparing to the same months in 2020-2021. Population data from the 2021 Statistics Canada Census.
Food bank clients' incomes have dropped, despite higher numbers of employed food bank clients.
After rent and utilities are paid, food bank clients have a median of $8.01 left per person, per day, to pay for food and all other necessities. This is a drop from last year's median of $9.17 per day.
Food bank clients report a median annual income of $12,732 – nearly 50% below Canada's official poverty line.
The median for racialized people is $7.75 per person, per day. Those who had arrived in Canada within the last year have $3.81 per person, per day.
Among those reporting employment income, 80% are living in deep poverty (75% of poverty line).
33% of respondents reported employment as their primary source of income. Of those employed, 60% reported holding a precarious job with low wages and little to no benefits.
Rents are absorbing an unbearable part of peoples' incomes.
87% of food bank clients live in unaffordable housing. As defined by the Canadian Mortgage and Housing Corporation, this means that they are paying 30% or more of their income on housing, compared to 45% of residents overall in Toronto.
69% of food bank clients were paying at least half of their income on housing, putting them at risk of homelessness.
18% of clients were paying 100% of their income on housing costs.
Food bank clients are socially and economically isolated.
39% of food bank clients report that they do not have people in their lives to count on in times of need. That is five times higher than the general population at 8%.
The portion of seniors who are food bank clients has risen from one in ten to one in six.
29% of seniors reported they sometimes/often did not have enough food to eat.
87% of seniors reported living in housing considered unaffordable.
Did you know…
Daily Bread is committed to meeting the emergency food needs of our communities, while advocate for long-term, systemic solutions to end poverty – the root cause of hunger.
Hunger is a symptom of poverty. It is a public policy issue that cannot be outsourced to charity. Realizing the right to food means that our federal, provincial, and municipal governments are responsible for creating an environment in which people have the physical and economic means and agency to access adequate food.
Programs and Services
Daily Bread is a member-based organization providing food to 193 food programs at 128 agencies across Toronto, including: 
Meal programs

: 

serve a sit-down, prepared 

lunch

 or dinner to their communities. 

 

Food bank programs: distribute up to 3 days of grocery items (fresh and canned) to their communities. Most programs are open 

weekly

and clients can go to any food bank once every week. 

Snack programs: serve portable snack items that are quick and easy to eat (

ie

. granola bars, cookies). 

Tenant programs: are tenant-led, distributing grocery items (mostly shelf-stable items) to members within their specific community. 

 

Breakfast programs: serve a sit-down light breakfast to their community. 

 

Pre-natal programs: distribute grocery items (fresh and canned) to expecting parents and those with children 5 and under, within their specific community. 

 
In addition, Daily Bread provides information and referrals to connect clients to services such as dental and vision care, mental health, housing supports, newcomer settlement services, employment supports.   
Daily Bread also provides a variety of training programs to our network of member agencies, including safe food handling, information and referral services, crisis prevention and anti-oppression practices.  
New Community Meal Program at 191 New Toronto Street: 
Last November, Daily Bread introduced a weekly Community Meal Program to serve the South Etobicoke community. Operating from our distribution centre at 191 New Toronto Street, this new program runs weekly on Thursday evenings from 5:30-7:00pm.
This Community Meal program provides nourishing, warm meals to families and individuals experiencing hunger, and those who may not benefit from traditional food bank service due to lack of access to a kitchen, cooking tools, or other barriers to food preparation.
Alongside a nourishing dinner—and as part of a rights-based approach to service—this program also provides information and referrals services for guests who experience hardships beyond hunger and would benefit from additional resources relating to housing, employment and more.
Demographics of Food Bank Clients in Toronto
Based on client food bank visits between April 1, 2021, to March 31, 2022, tracked in Link2Feed.
Food Distribution
In 2022, Daily Bread distributed over 18 million pounds of food – an 11% increase compared to the previous year.  
Research and Advocacy
Conducting in-depth, timely research is critical to Daily Bread Food Bank's mission. Our advocacy strategy focuses in four key areas:
Each year, Daily Bread develops key research projects to advocate for systemic change to end poverty. Here are a few highlights:
Action to Impact: 
In 2021-2022, Daily Bread stepped up its advocacy efforts to press for recognition of food as a human right and to have government create the necessary conditions to ensure that everyone's right to food can be realized. Here is what we accomplished:
Through a petition, 27,407 Ontarians called on the government to reduce poverty by 50% in our province by 2030.
Successfully advocated for the adoption of Inclusionary Zoning at the City.
Deputed at municipal budget hearings calling for expansion of TTC subsidy program.
Hosted an All-Candidate Townhall leading into the Federal election to allow the local community to raise relevant issues.
Piloted a member agency Advocacy Committee as a way to organize and ensure priorities are mutually aligned.
Supported sectoral campaigns and partnerships to address root causes of food insecurity.
Met with four provincial parties to highlight key asks for their election platforms.
Hosted two information sessions for City Councillors and key staff to share rising numbers of food bank visits in local wards and proposed policy recommendations for consideration.
Launched a podcast. The 2030 Project: Ending Poverty in Canada, tackles some of the biggest and most pressing social issues facing Canada today. The podcast brings together individuals with lived-experience, community leaders, researchers and more, to explore what it would take to eliminate poverty in our country by the year 2023.
Hunger is a symptom of poverty – it is a public policy issue that requires public policy solutions. We are committed to collaborating with all levels of government to push for long-term, systemic change.
Key Learnings
Client Preferences Survey:
Daily Bread Food Bank follows a Rights-Based approach to food distribution and service. We believe client voices must inform organizational decisions. One of our key 2024 Strategic Goals, is to ensure that all clients will have access to three-days worth of food per weekly visit, based on redesigned offerings, guided by client preferences.
This past year, a client preferences survey was developed to gather information from member agencies about their community's food needs. Over one thousand clients at thirty-one food banks were asked to complete this in-person survey to gather quantitative and qualitative data that will help inform decisions about the foods Daily Bread should be procuring.
Over the next two years, we will be undertaking a transformation in our food procurement and distribution practices to better align with client preferences where possible.
Canada's Food Guide Servings Project:
The Canada's Food Guide Servings Project supports Daily Bread Food Bank's commitment to providing nourishing food that aligns with public health recommendations and provides context for which foods and beverages to procure, prioritize and distribute.
This project addresses three specific goals:
The latest Canada's Food Guide, released in 2019, does not provide guidance around daily servings in a balanced plate. This makes it challenging for Daily Bread to procure food in proportions that meet the guide's recommendations. Through this project, we will create a general model that approximates the intent of the 2019 Canada's Food Guide in the metric of servings per day.
Review Daily Bread's "primary/core" food categories (grains, dairy, protein, vegetables, and fruit) to ensure current product offerings are providing the best nutritional quality, and make recommendations on healthy product offerings and alternatives. Additionally, review Daily Bread's secondary categories to rate nutritional value and to identify products that are recommended to not be distributed.
Make recommendations about preferred food mix and format within food categories.
The recommendations will apply to purchased foods, planned procurement, as well as donated foods.
Nutrition choices have a significant impact on health. Those facing food insecurity and low socio-economic status may have a disproportionate burden and increased risk of chronic health issues. A move towards nutritionally focused service will help to improve access to healthier food choices, address inequities in eating, and help to prevent nutrition-related health challenges.
Cold Chain Temperature Study:
As part of our commitment to providing quality, respectful and dignified service at all food programs, a study was completed to assess all the steps in Daily Bread Food Bank's cold chain. The goal of this study was to ensure the highest quality control when it comes to temperature storage requirements for various food products.
This study provided insights in the following areas:
Risk mitigation: Regulatory compliance, consumer safety and waste reduction.
Freshness assessment: Monitoring and sustaining product integrity.
General operating procedures: Monitoring temperature and humidity data.
Regular review and continuous improvement on current processes ensures food safety and high-quality products for clients visiting Daily Bread food programs.
Volunteers at Daily Bread
Volunteers are essential to Daily Bread's day-to-day operations. Last year, over 1,200 incredible volunteers donated a total of 51,742 hours of time to Daily Bread. These committed individuals help to sort and pack millions of pounds of food, work in our food bank, help prepare nutritious meals in our kitchen and keep our warehouse running smoothly.
Close to 3.5 million lbs of food were sorted and packed by volunteers!
Financials
*Revenue and Expenses illustrated before Other Items which includes investment income of $452,514 and an unrealized fair value gain (loss) on investments of ($2,188,787).
Daily Bread Staff Wages and Benefits:
The wages and benefits paid to each of Daily Bread Food Bank's full-time staff meet the requirements of the Ontario Living Wage Network. For more information, visit www.ontariolivingwage.ca
To review our 2022 Annual Report and audited financial statements, click here.