Statistics Canada's recent labour force survey presents a bleak picture. Almost 2 million jobs were lost in April alone.
The magnitude of job losses is unprecedented. Since February, employment has declined by 15.7 percent, compared to a decline of only 5.4% during the 1981-1982 recession.
Employment Changes During Notable Economic Downturns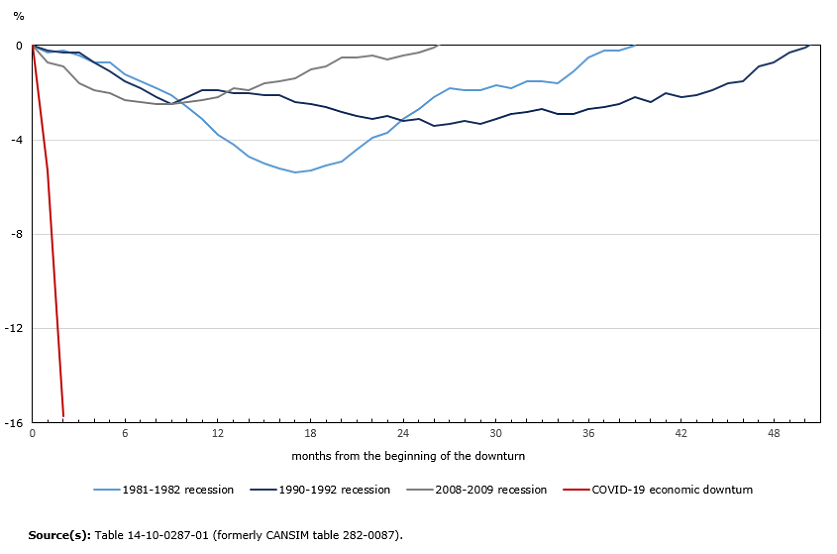 What is most concerning is that these job losses have been felt most acutely by people with lower-wage, more precarious work. Among employees who earn less than $16/hour, the rate of job loss has been an astounding 38%.
Prior to the pandemic, 4.4 million Canadians were experiencing food insecurity. Two thirds of these households received their income from employment, yet they were still unable to afford sufficient food to meet the needs of their households.
According to a poll of Canadians in late March, one in three said they could not manage an unexpected $100 expense. Given the unprecedented job losses currently being experienced, it is no wonder that one in eight Canadians are worried they will need to rely on a food bank in the near future.
The Canadian government has rightfully implemented a number of income supports to help tide people over financially during the pandemic and the associated economic crisis.
Close to 8 million people have applied for the Canada Emergency Response Benefit (CERB), which provides $2,000 per month for Canadians who are unemployed, have had their hours reduced significantly, or are unable to work due to COVID-19.
Undoubtedly, this benefit is providing invaluable help to many families.
But when we consider the cost of living in Toronto, the CERB falls short in meeting people's basic needs. The average cost of a one-bedroom apartment in Toronto is $1,371. For someone receiving $2,000 in income supports from CERB, 69% of that income would go towards paying rent, leaving little to afford all of life's other necessities. For those who lack savings to get them through this difficult financial time, accessing a food bank may be the only way to make ends meet.
Food banks are on the front lines of emergency food assistance. Investments from both the federal and provincial government have enabled food banks across Canada to ramp up emergency food distribution while also ensuring adherence to public health guidelines.
Without this emergency food access, many Canadians would be forced to skip meals or reduce their food consumption, leading to a host of health problems, including increased risk for chronic diseases.
However, as we move from crisis response to planning for the country's economic recovery, we have an opportunity to tackle the root cause of food insecurity: poverty.
Income supports and rent assistance have played a crucial role in responding to the immediate crisis, but these financial supports must be maintained even as we begin re-opening the economy. Income is the number on driver of food insecurity, and income security must drive our recovery plans.