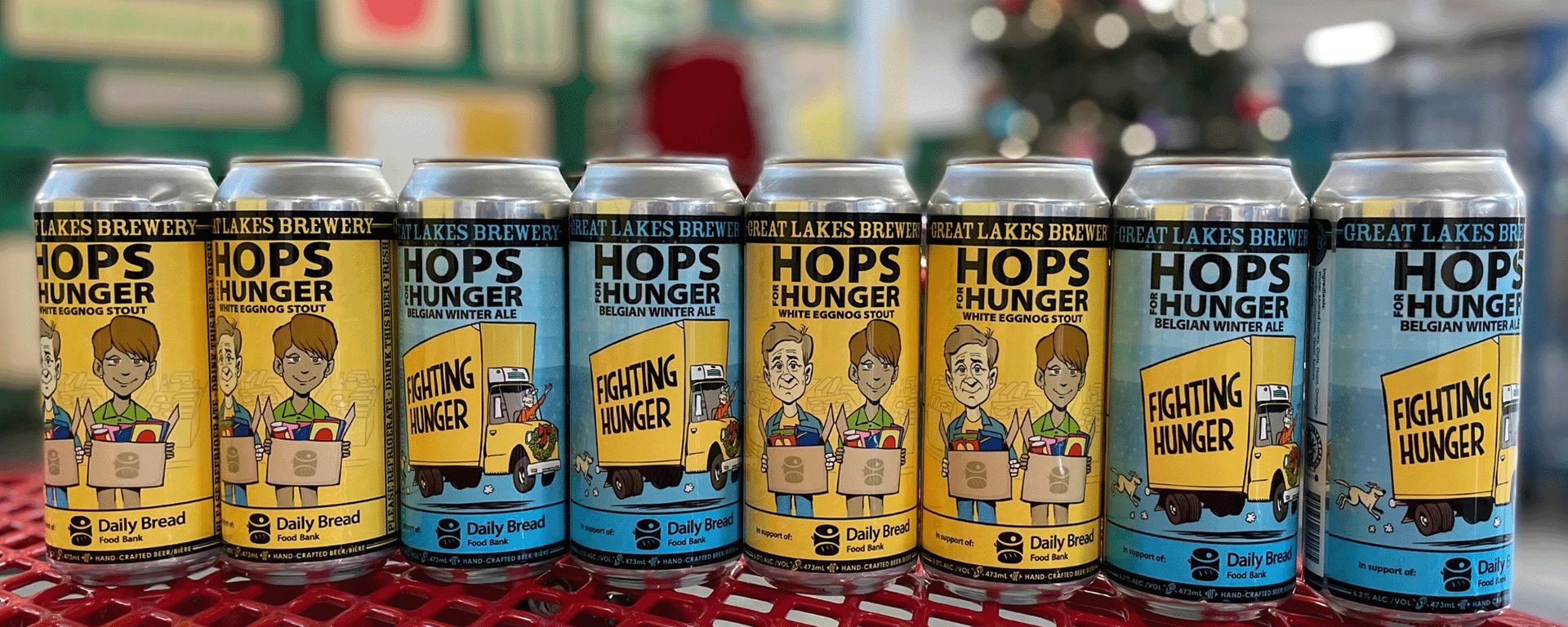 Thanks to the generous support of our friends at Great Lakes Brewery, hundreds of families experiencing hunger will access healthy, nutritious food this holiday season.
During the month of December, Great Lakes Brewery is holding their 14th annual Hops for Hunger campaign. For each can purchased of their exclusive White Eggnog Stout and Belgian Winter Ale, $1 — that's one meal! — goes to Daily Bread Food Bank. 
We are so grateful for this longstanding partnership. The team even infused a bit of extra charm into this year's campaign: The truck driver in the Belgian Winter Ale label (pictured below) was modelled after Daily Bread's longest-tenured employee, Jerry, and the dog was inspired by our VP of Happiness (aka Charlie, our CEO's golden retriever). For more interesting facts, check out your Hops for Hunger can — Great Lakes Brewery included a Daily Bread factoid on each one.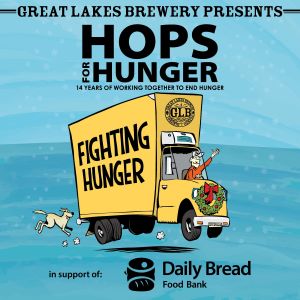 You can pick up your holiday supply at the retail store located at 30 Queen Elizabeth Blvd. in Etobicoke, at the GLB Brewpub at 11 Lower Jarvis St., or through GLB's online shop for free local delivery.
The brewery is also collecting nonperishable food donations on site all month long.
If you would like to make a monetary donation to Daily Bread Food Bank, please click below. With every $5 you donate, you will be providing 5 healthy meals for a neighbour in need.
Last year, thanks to the support of Great Lakes Brewery and everyone who purchased a can of White Eggnog Stout, we were able to provide 5,000+ healthy meals to our neighbours in need.
"Community means the world to us here at the brewery and giving back to those who need it most is the least we can do. We are proud to build on the 14-year relationship with have with Daily Bread Food Bank as they continue to do amazing work in communities in and around the city of Toronto."
Peter Bulut, Owner and President, Great Lakes Brewery