On September 20, 2022, we held the Best in Class Awards, an annual celebration of extraordinary commitment to the fight against hunger in Toronto.
While recent food-insecurity numbers have been sobering, this night was inspirational. We were surrounded by individuals and organizations that have been working tirelessly to end hunger in our city, and everyone lifted each other up. "Together we need to advocate, to speak up, to make changes, so that we can actually combat food insecurity in our city," said Lee Soda, executive director of Agincourt Community Services Association, while accepting the award for Outstanding Food Program. "Hope lives in this room tonight."
We held the event at Great Lakes Brewpub, which offered guests top-notch drinks and food, and were honoured to have Gurdeep Ahluwalia, of 98.1 CHFI's The Pooja and Gurdeep Show, volunteer his time and host the awards alongside CEO Neil Hetherington.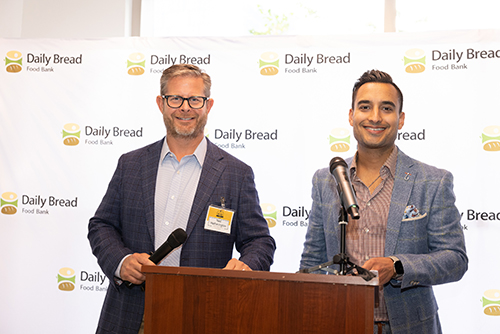 The night was filled with well-deserved congratulations. All of us at Daily Bread would like to recognize the following 2022 Best in Class Award recipients and nominees:
Harvest Hero
Rose Family Farm, a new donor in the Farm-to-Food Bank program, won this year's Harvest Hero award. They generously contributed over 300,000 pounds of fresh-from-the-farm potatoes to Daily Bread Food Bank, greatly offsetting our food-purchasing costs on this much needed staple and helping ensure clients had access to fresh produce.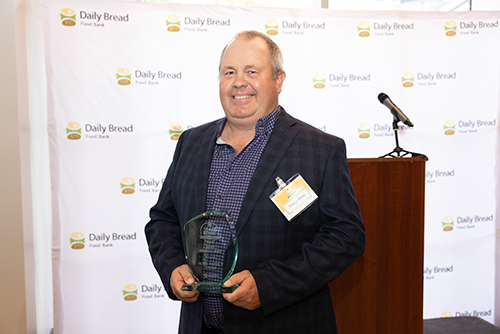 Congratulations to R Tindall Produce as well on their nomination! 
---
Food Industry Trailblazer 
Italpasta, this year's Food Industry Trailblazer, committed over 500,000 pounds of pasta and sauces to help Daily Bread keep up with the significant increase in client visits during the COVID-19 crisis. And, thanks to a unique transportation partnership with the Highland Creek Community Association, the product was shipped to Daily Bread at no cost to our organization.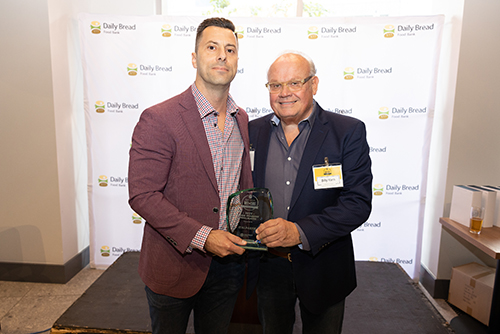 Congratulations to Daiya Foods and Metro Distribution as well for their nominations!
---
Corporate Leader 
Yardi Canada Ltd is our 2022 Corporate Leader. Since the onset of the COVID-19 pandemic, the company has been a strong supporter of Daily Bread. In addition to a generous annual corporate donation, Yardi stepped up to be the matching sponsor for our 2021 Giving Tuesday campaign, which raised over $140,000.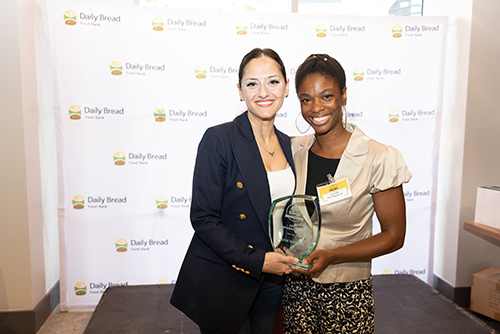 Congratulations to Cortland Credit and Icon Insulation as well for their nominations!
---
Workplace Champion 
Bravo to Slalom Consulting, this year's Workplace Champion. The company has been a major supporter of Daily Bread since 2016 through their annual workplace fundraiser. Since the onset of COVID, the team at Slalom has demonstrated innovation by re-imagining their campaign each year, first moving into the virtual space and then using a hybrid model, keeping the best virtual elements of the campaign while safely resuming select in-person activities. The result this past spring was more than $33,000 raised, their highest total since 2019.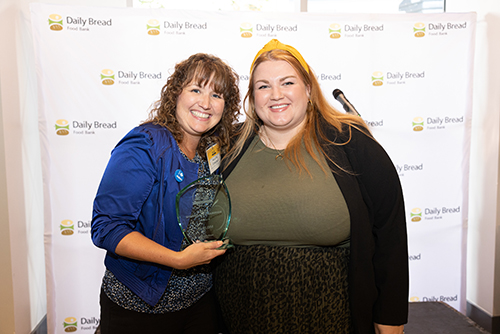 Congratulations to Klick Health and Hepburn Engineering as well on their nominations!
---
Community Leader 
The Junction Residents Association's vision is a healthy, caring and vibrant community where all people can thrive. The JRA organizes a large-scale community food drive that has grown to become a well-oiled machine that mobilizes dozens of volunteer street captains. Among our largest community-led drives, the JRA's most recent Thanksgiving and Easter campaigns combined to raise nearly 30,000 lbs. of non-perishable food donations. This wonderful model of community engagement serves as a blueprint for other neighbourhoods to replicate.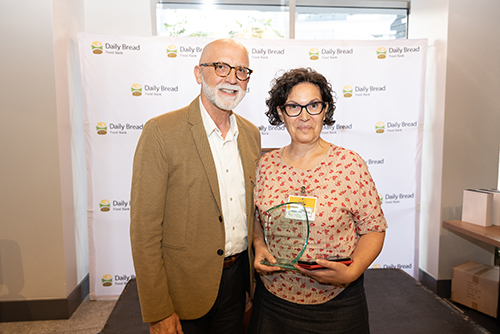 Congratulations to Malvern Onyx Lions Club and the Old Toronto Series as well on their nominations!
---
Outstanding Food Program 
The winner of this year's Outstanding Food Program is Agincourt Community Services Association (ACSA). Having served over 13,000 people in June alone, ACSA continues to run one of the busiest food banks in the city. This year, the team developed a grocery-store style model in a new accessible space. The dedicated volunteer team at ACSA is made up of clients and community members, who speak a variety of languages.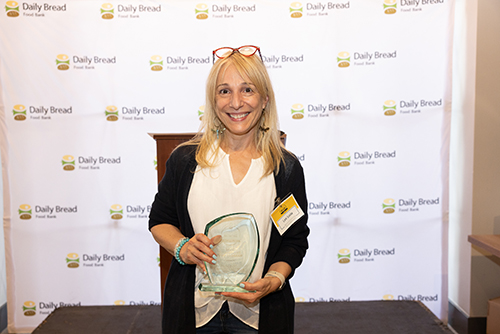 Congratulations to Parkdale Activity Recreation Centre and Avenue Road Food Bank as well on their nominations!
---
Profound Community Impact 
Amos Sarwan is our 2022 Profound Community Impact award winner. As lead pastor of Grace Place, he turned his ambitious ideas into action early in the pandemic to address the severe food insecurity he witnessed in his Scarborough community. Now running one of the busiest programs in the city – serving over 14,000 people this past June — Grace Place hosts a multitude of services for clients, from clothing and furniture banks to food deliveries and large community events.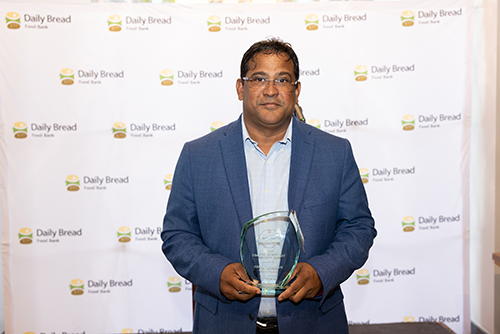 Congratulations to Julie LeJeune of Fort York Food Bank and Shauna Harris of Spadina Fort York Community Care as well for their nominations!
---
Commitment to Equity 
This year's Commitment to Equity award went to Janel Simpson-Campbell, of Emmanuel Life Management Centre. Her organization has grown tremendously this year, working to formalize their structure as a grassroots organization and increase capacity to serve their community. She and a team of volunteers ensure that everyone feels welcome and safe in their food bank spaces. Janel is dedicated to building trust and understanding the needs of every family she serves.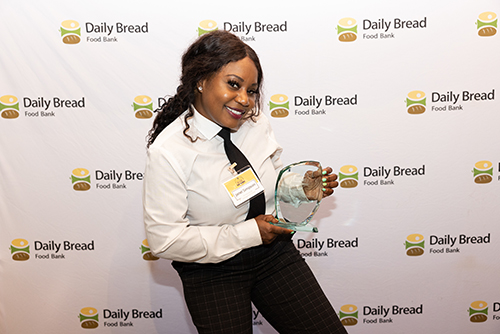 Congratulations to Tabitha Eastman of The Lighthouse and Sanda Kazazic of All Saints Toronto as well for their nominations!
---
Exceptional Volunteer 
Nicole Gauthier is our 2022 Exceptional Volunteer. She started volunteering with Daily Bread at the start of the pandemic and quickly earned the nickname "All-Star." She has taken on many roles across the organization: She sorts food, picks orders, serves lunch, helps to set up the food bank, and supports special events. Nicole is a leader in every sense of the word.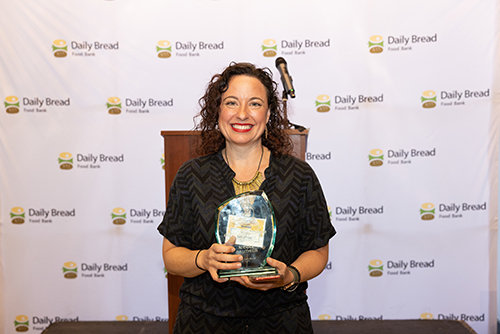 Congratulations to Jennifer Johnson and Mark Park as well for their nominations! 
---

Thank you so much to all of the extremely deserving nominees and winners for coming out to celebrate with us, and for everything you do to support our communities. We're honoured to stand by your side in the fight against hunger. 
As Janel Simpson-Campbell said in her acceptance speech: "Let's do this! Let's kick poverty's butt. We can do this!"
A video recording of the 2022 Best in Class Awards ceremony is available to watch here.