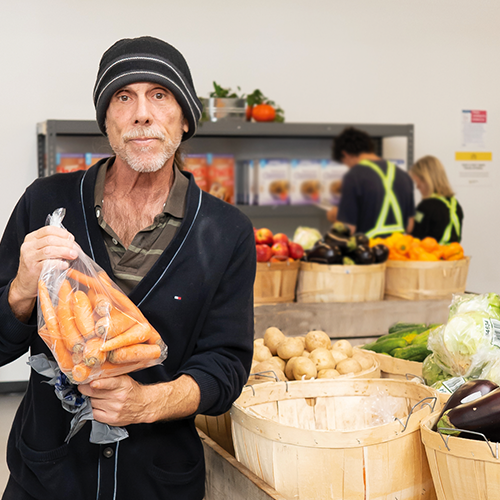 Become a monthly donor and help provide nutritious food all year.
Monthly donations will be matched dollar-for-dollar for the first year, up to a maximum of $100,000.
Who's Hungry 2022
New report illustrates the deep strain faced by food banks, and those accessing them.  
Over the past twelve months, there have been 1.99 million visits to food banks, and demand is projected to push that number to over two million for the 2022 calendar year.
Season 2 of our Podcast is Now Live!
What would it take to eliminate poverty in Canada by the year 2030?
Join host Dave Trafford in conversation with community leaders, researchers, and academics to uncover what has been successful with Canada's Poverty Reduction Strategy and what needs to come next.
You can help end hunger in Toronto.
The road to recovery from the COVID-19 pandemic will be difficult for those experiencing food insecurity. We need your help to ensure everyone's right to food is realized.
We believe that access to food is a basic human right, not a privilege. No one should go hungry.
WHAT WE DO
Daily Bread distributes fresh and shelf-stable food every day to our member agency network.
VOLUNTEER
Daily Bread welcomes more than 10,000 volunteers a year.
WE LOVE OUR DONORS
"As a Torontonian raising a family, I understand the critical role Daily Bread plays. As a local business owner, I want to give back to our community and our neighbours who need it most."
– Sundeep Bagga, President, Sunpan Modern Home