Public transit is a vital part of any world class city and Toronto is no exception. Reliable, affordable, accessible transit is essential, yet Toronto has among the highest paid transit fares in North America.
A strong transit system allows people to get to work and school, access community services like food banks, visit friends and family, and get to and from recreation or city-wide events. Public transit has the potential to help reduce road congestion and pollution and boost the local economy as well.
Marginalized communities, including communities that have low-income, racialized, and/or immigrant populations are more likely to commute long hours to get to and from work, school or community programs. Due to discrimination and multiple barriers, these same communities are most likely to experience food insecurity.
In our annual Who's Hungry survey, two-thirds of clients reported having to miss a meal to pay for another expense. Close to half of these respondents had to skip a meal to afford transportation.
Daily Bread Food Bank recently partnered with Dr. Steven Farber, Associate Professor in the Department of Human Geography, and Jeff Allen, Ph.D. Candidate in Geography at the University of Toronto to understand the transit access to food banks in Toronto.
The analysis revealed that as a result of 22 new food banks being opened in the Daily Bread network during the pandemic, travel time to food banks decreased by up to 30 minutes in some parts of the city, including Scarborough and Etobicoke.
Concerningly, due to changes to bus service by the TTC during COVID-19, some areas of the city saw an increase in travel time to food banks of up to 30 minutes. Reducing bus frequency and modifying routes can have a serious impact on the ability of families to access food.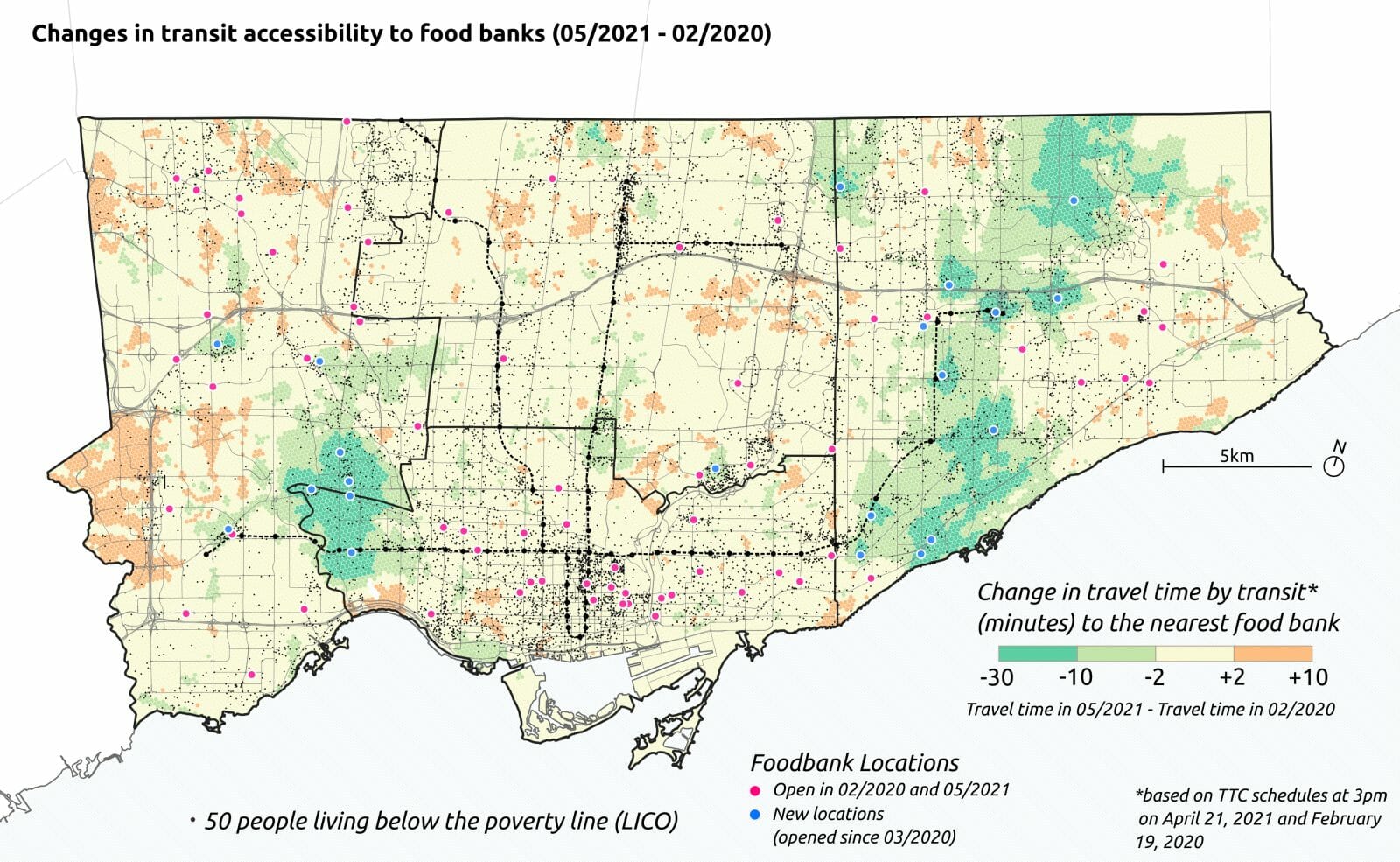 As we recover from the effects of the COVID-19 pandemic on our daily lives and the economy, we need transit policies that will help eliminate existing inequities in the city. The Toronto Transit Commission (TTC) and the York Region Transit (YRT) are working together to develop a joint 5-Year Fare Policy and a 10-Year Fare Collection Outlook. They will also consider various ways payment structures for public transit use, such as fares based on distance travelled. The project and its development will happen in three phases over the course of 12 months and will be completed by the end of 2021.
Social Planning Toronto examined the impact to Toronto residents if the TTC and YRT moved forward with a new fare structure based on distance traveled. Their findings revealed that distance based fares would, "negatively impact working-age residents in the inner suburbs — largely racialized and immigrant residents — and deepen racial, social, and geographic / spatial inequality across the city."
As the TTC and YRT consider the 5-Year Fare Policy and a 10-Year Fare Collection Outlook, it is critical that access to essential services, like food banks are considered. Services must be not only affordable, but reliable and accessible.
We recommend that the TTC:
Fully implement the Fair Pass program to provide lower fares to all low-income households.
Increase service connectivity and frequency in neighborhoods with poor food access.
Expand the transfer time fare window from 2 hours to 3 hours so households can get to and from a food program without having to pay for two separate trips.
Provide free transfers between municipalities in the GTA so people commuting for work or to access services across municipal boundaries are not changed twice for their ride.
Refrain from implementing distance-based fares as this disadvantages Indigenous, racialized, and immigrant communities, people with disabilities, women, and younger adults.
We will be sharing these recommendations with the TTC in the fall. To learn more about the 5-Year Fare Policy and a 10-Year Fare Collection Outlook and find out how you can get involved, click here.
For more information, check out these resources: