When you step into the quiet sanctuary of All Saints Church-Community Centre, a Daily Bread member agency, you'd never know that a three-alarm blaze brought 70 or so firefighters to this site just a few months back.
Within the 150-year-old brick building, a team member greets newcomers with a smile. Stained glass windows soften the sunlight streaming in. High, arched ceilings float above the patrons chatting in pews, sipping sports drinks and napping on black mats.
"People come here because they can find that comfort and peace and safeness that is not readily available to them elsewhere in the city," said Alex Hernandez, who's worked at All Saints for four years. "They are allowed to just be."
This Downtown East centre on Dundas and Sherbourne serves 800+ meals a week to its patrons, who also visit for free nurse services, emergency clothing, harm reduction supplies, hygiene supplies, and access to the centre's computers, phone, washrooms and Wi-Fi. But they mostly come for the zero-judgment sense of community. To enter All Saints, you don't need to give any information — not even your name. One client said he was Jean-Claude Van Damme, and everyone called him Van Damme for the day.
"We really pride ourselves on being low barrier," said Sanda Kazazic, the All Saints drop-in manager. "We're trying to make people feel like this is their community."
The fact that All Saints provides such critical neighbourhood support made the fire all the more heartbreaking. In the wee hours of the morning of December 13, flames ignited on the third floor of the supportive-housing building attached to the church. A resident's guest lost their life, and two people were critically injured. The fire displaced 16 tenants who lost all of their belongings right before the holidays.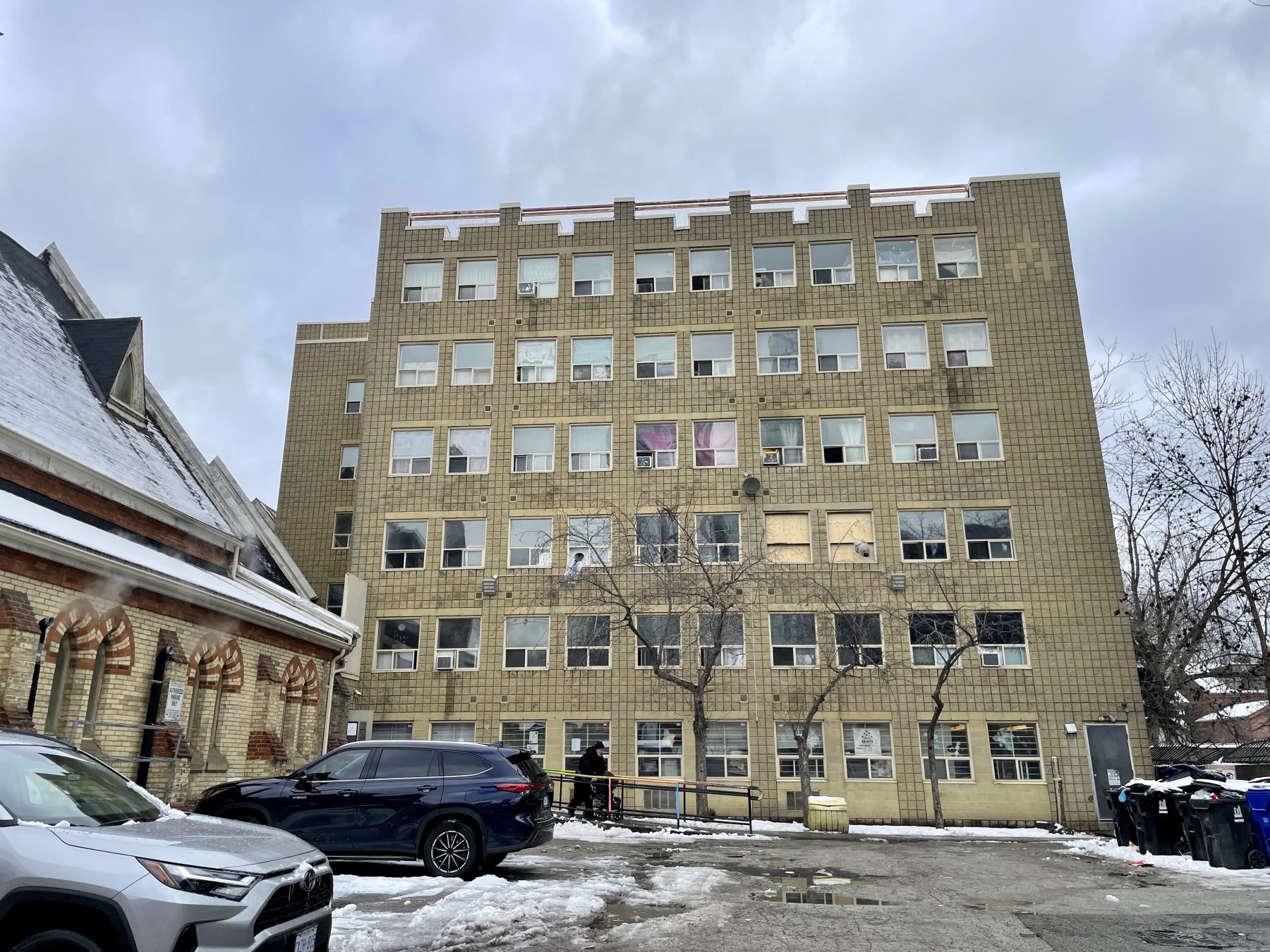 But it could have been even worse. Toronto Fire quickly got the flames under control and rescued all residents, going back for pets (and giving them oxygen!) after ensuring all the humans were safe. The public rallied and raised over $57,000 to support the displaced tenants, repair damages and help the drop-in centre. And, after closing for just one day, the centre re-opened to serve the community. "I think that really speaks to the determination of this team to provide space and services," Sanda said.
Perhaps even more inspiring: The day after, on December 15, with broken ovens and a waterlogged kitchen, All Saints served their scheduled Christmas dinner to nearly 300 people.
Patrons dined on turkey — baked and carved in volunteers' home kitchens — as well as mashed potatoes, gravy and sides. They took home goodie bags that included $20 gift cards to McDonald's, the result of a Daily Bread Food Bank mini grant. The fact that this night of good food and joy could follow such a tragedy shows all you need to know about All Saints.
"It's all built on love, kindness, lack of judgment and supporting people the way they want to be supported," Sanda said.
---
Want to help fight hunger in Toronto? You can support the work of all 128 of our member agencies by donating today.