Last month, a group of young girls in Toronto set up and ran a lemonade stand to help raise money for Daily Bread Food Bank!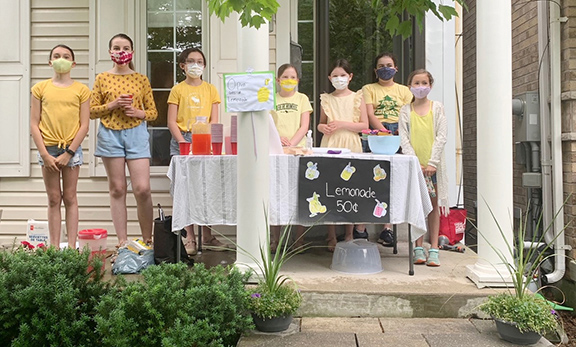 The seven girls (Norah, Abby, Ella, Evie, Cate, Sophia, and Elsa) wanted to give back to their community in a meaningful way and help ensure that their neighbours experiencing food insecurity have access to the food they need.
While their fundraiser was met with rain, the girls weathered the storm and thanks to their supportive community, raised $275 for Daily Bread.
We want to give a big thank you to Norah, Abby, Ella, Evie, Cate, Sophia, and Elsa for their support and for showing us that you're never too young to give back.
If you would like to start a fundraiser in support of Daily Bread, click here!
Whether you're organizing a virtual activity, asking for donations in lieu of gifts, or anything in between, you can create your own custom page and start fundraising right away. We'll provide you with tips and support along the way as you raise funds and help ensure everyone's right to food is realized – this summer and beyond.