The recent deaths of George Floyd, Breonna Taylor, David McAtee in the United States, and Regis Korchinski-Paquet in Toronto have brought the deep rooted, systemic, and pervasive nature of anti-Black racism to the forefront of public discussion.
Anti-Black racism is closely tied to food insecurity in Canada. The 2019 Who's Hungry survey of food bank clients found that 24% of survey respondents identified as Black, compared to 8% of the population in Toronto's Census Metropolitan Area.
A Canadian national study by PROOF and FoodShare revealed similar inequities: Black households are 3.56 times more likely to be food-insecure than White households.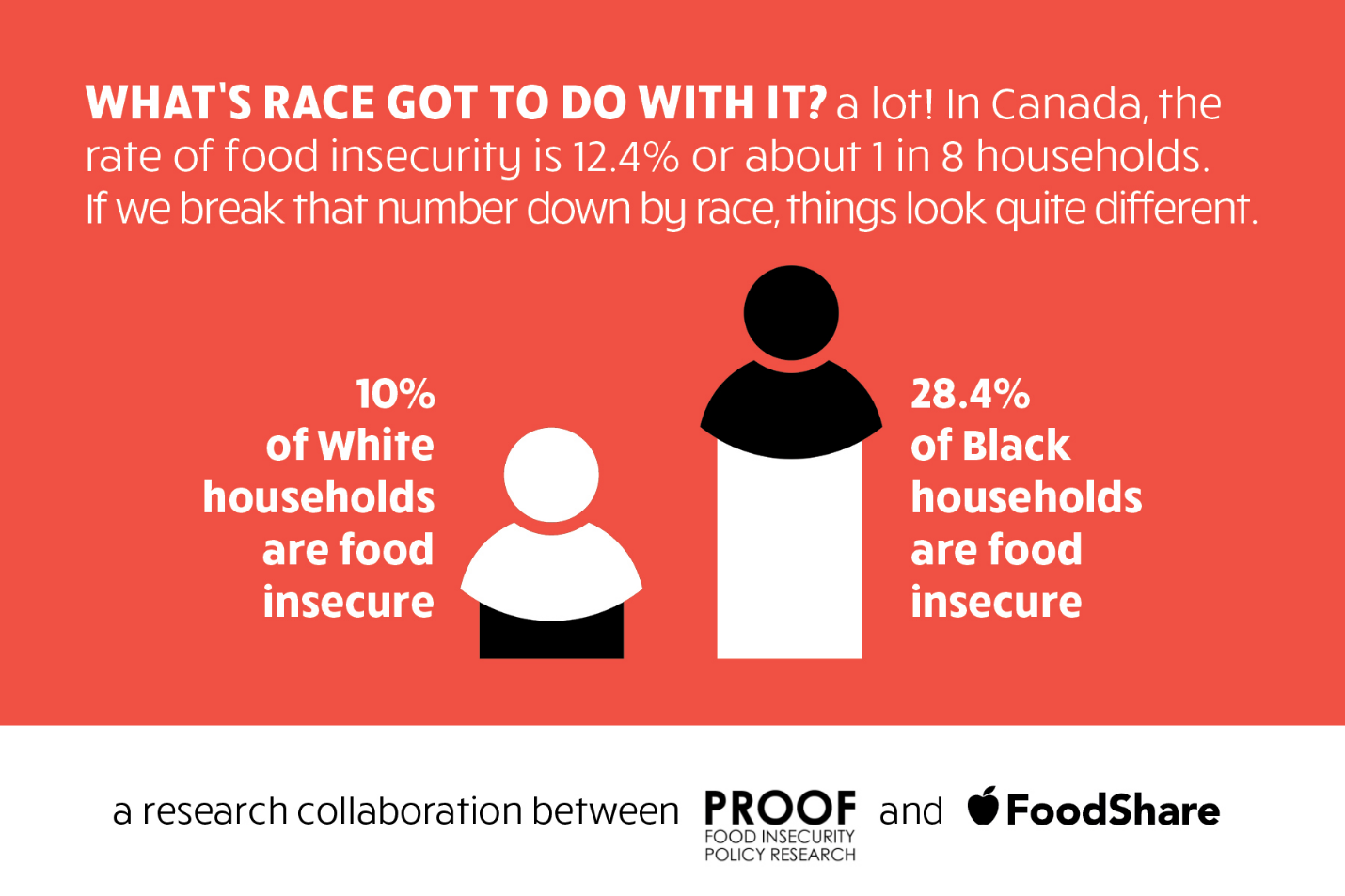 Why are Black households more likely to be food-insecure?
Poverty is the root cause of food insecurity, and Black Canadians are more likely to have lower incomes, to live in low-income neighbourhoods, and to be among the working poor.
However, even when controlling for variables like income, home ownership, and education, Black households are still 1.88 times more likely to be food-insecure than White households. That means that being racialized as Black is itself a predictor of food insecurity. Research in Canada and the U.S. suggests that impacts of anti-Black racism, including over-policing, precarious employment, and the psychological stress of experiencing racism also contribute to higher rates of food insecurity among Black people.
Higher rates of food insecurity have consequences for Black communities. Food insecurity has been linked to worse educational and health outcomes, including chronic conditions such as asthma and diabetes. The causes and impacts of racism, left unaddressed, further perpetuate health and social inequities.
The data paints a clear picture. Food is a fundamental human right, yet this right is being disproportionately denied to Black people in Canada.
To better understand how anti-Black racism impacts food insecurity and what ongoing actions and transformations are needed to dismantle this oppression, it is critical to listen to the voices of Toronto's Black-led organizations and community groups who have been, and continue to be, leading the movement for food justice. Here are a few of the resources we are reading, listening to, and learning from: