On April 21, Daily Bread Food Bank's yellow and teal production floor was flooded with bright red and white. A team of more than 80 employees from Kellogg Canada filled our warehouse for a morning of volunteer activities as part of Kellogg's annual "Day of Caring" initiative.
"At Kellogg, we have a deep commitment to advancing sustainable and equitable access to food for all," said Lores Tomé, Director, Communications & Corporate Affairs, Kellogg Canada Inc. They showed it that day: The team sorted food during a volunteer power hour, and presented Daily Bread with a cheque for $50,000. In total, with the 13,899 pounds of food Kellogg sorted, they helped provide nearly 64,000 meals to Torontonians experiencing hunger.
Kellogg started the morning by hosting an appreciation breakfast for our volunteers in honour of National Volunteer Week (April 16-22). Daily Bread and Kellogg team members enjoyed fruit plates and spooned up Kellogg's cereal while listening to speeches from both organizations' leaders and a Daily Bread client-turned-volunteer, Sue-Ellen.
Sue-Ellen described how she was forced to turn to food banks to feed her family during the pandemic. On her first visit, she said she hung her head low in shame. "Making the walk here to Daily Bread became a monthly thing, each time trading in a little more dignity to feed my family," she said. "Pulling my wagon home, I would cry at my failings as a provider, and agonize over what example I was setting for my kids."
Although her speech was heartbreaking, it also testified to the power of volunteering and community. "I only started volunteering here four short months ago, and in those four months, I have found not only friends, family, support, and validation, I have found my dignity," she said.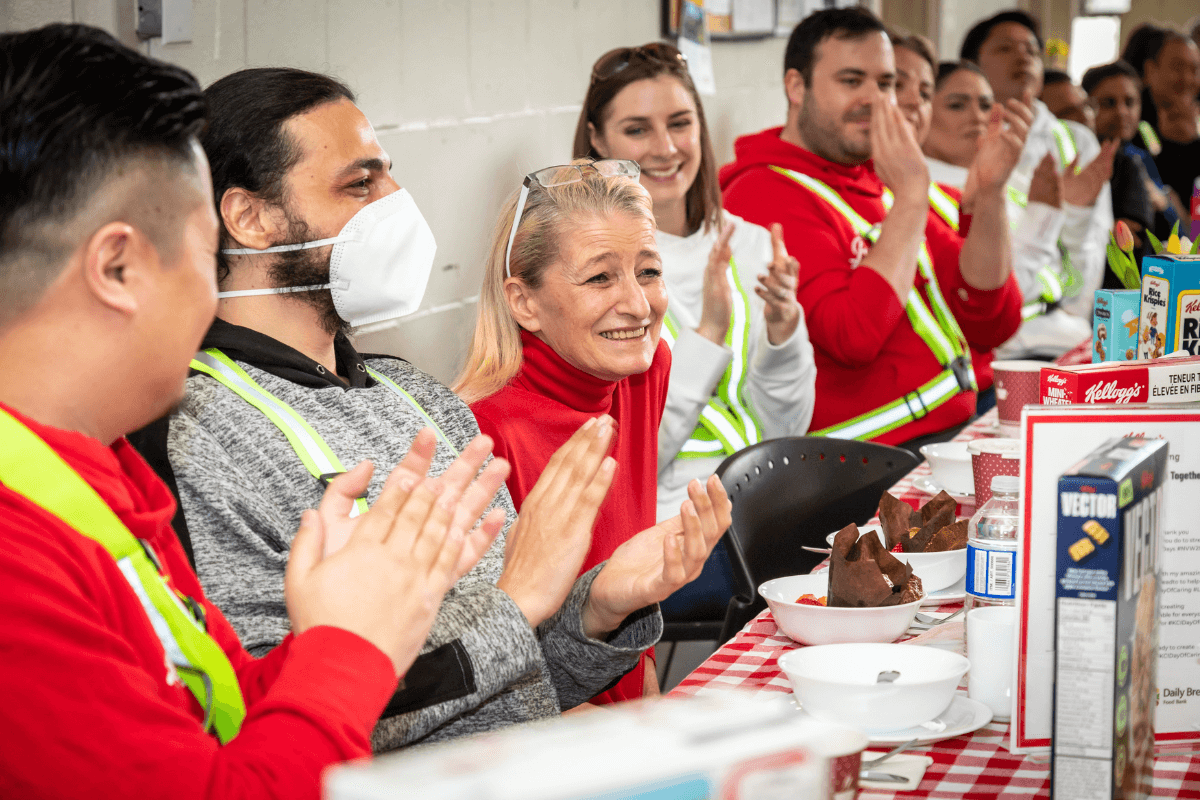 Her words flowed through the entire room. "While it was incredibly moving and impactful to hear about her journey, it also inspired many of us to do more beyond National Volunteer Week," Lores said. "And, in the words of our Kellogg Canada president, Tony Chow, it served as an important reminder for all of us to continue to give until it feels good."
Thank you so much to Kellogg Canada and all our generous donors for ensuring all Torontonians can access the food they need. Give funds here to join our community of donors in the fight against hunger.