Food is a human right, and no one should go hungry or face barriers in accessing the food they need.
With the impact of inflation and constantly rising food prices, thousands in our city are struggling to make ends meet. Did you know that after paying for rent, food bank clients have on average $8.01 left per person, per day for food and all other necessities?
As part of Daily Bread Food Bank's Rights-Based Approach, we are committed to providing dignified, low-barrier access to nutritious food and variety at all programs. As part of this commitment, last summer, we launched a "staples" program, informed by a client survey and updated recommendations from Canada's Food Guide (2019). The staples program ensures that essential food items such as eggs, lean meats, fresh produce, lentils and rice – food our clients request the most, are always available when they visit a food bank.
In addition to our staples program, we have expanded protein offerings to our member agencies and introduced a wider variety of locally sourced meats including ground beef, pork, as well as white fish, like basa and tilapia. Member agencies now have more options to choose from (three types of meat proteins per week, including a halal option) for their weekly orders to best meet the needs of their community.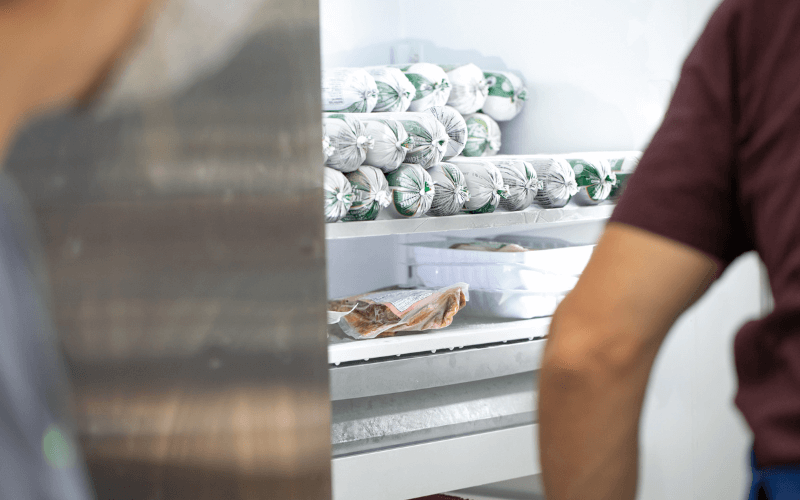 Many of these new offerings came out of creative, sustainable solutions from our partners, like rescuing cuts of salmon sliced off from grocery-store steaks. "Because this is still a very good part of the fish, they now take those pieces and cut them into salmon bits, which are good for stir-fry or small protein portions," says Heather Valentino, VP of Operations, Daily Bread Food Bank.
At the same time, we're keeping costs low and continuously monitoring food purchasing processes to ensure food budget guidelines are adhered to. We also collaborate with food partners on solutions that allow them to reduce food waste while allowing us to procure quality products for our clients.
Thanks to the generosity of our donors, partners, and supporters, we can continuously improve food offerings to best serve the needs of our community.
If you would like to support Daily Bread's food programs across the city, please click here.