Affordable housing. Social-assistance rates. Basic income. How do these critical factors play a role in creating a Canada without poverty?
Host Dave Trafford and expert guests tackle this and more in Season 2 of our podcast, The 2030 Project: Ending Poverty in Canada, which just wrapped with a special 10th episode highlighting findings from our newly released Who's Hungry 2022 report.
Thanks for tuning in this season. And if you're new to The 2030 Project, you can check out our content highlights below:
Episode 1: Our Call to Action Is a Call for Change
In this season premiere, Neil Hetherington, CEO of Daily Bread Food Bank, and Diane Dyson, VP of Research & Advocacy (Interim), set the stage for the the season. Why has poverty become a kitchen-table conversation? What actions are we seeing from the government, and what more do we need? They parse out evidence-based solutions to eliminate poverty in our city.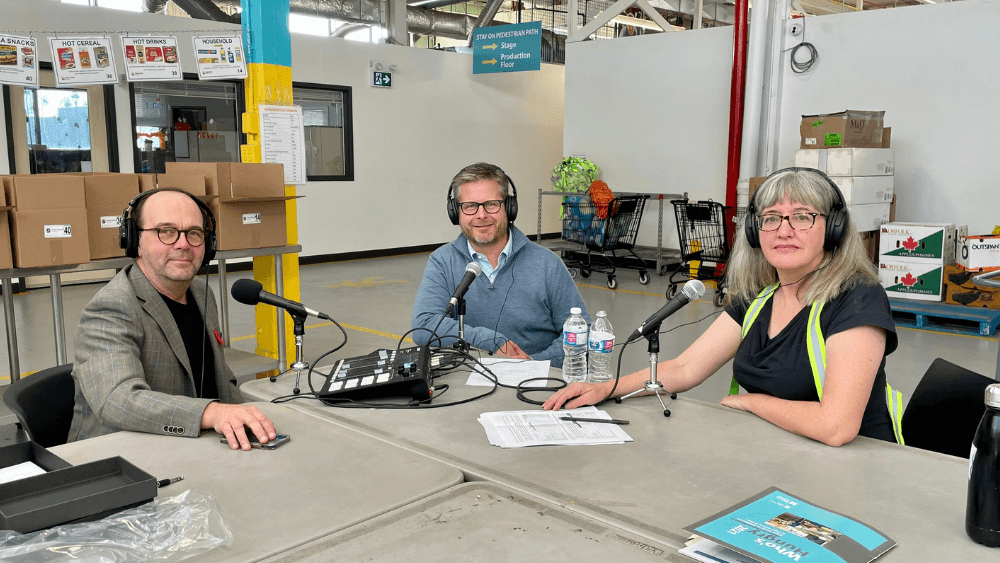 Episode 2: What Is the Meaning of Poverty?
What does "poverty" mean? What does it look like? In episode two , we hear from cultural anthropologist Ujwal Arkalgud, EVP & Group Director of Anthropology at Lux Research, about how we can define poverty. This understanding can help pave the way for eliminating it in the future.
Episode 3: How Long Can We Afford to Be Patient?
Leila Sarangi, National Director, Campaign 2000, talks about poverty in Canada — especially child poverty in Canada — and the concrete steps we can take to mitigate it. She discusses how poverty can appear in a birthday party invitation, the efficacy of the Canada child benefit, and the "invisibilizing" of Indigenous poverty.
Episode 4: Food Deserts Are a THING in Canada
Let's talk about food deserts. In this episode, we delve into this topic with Dave Hardy, President of urban planning consultancy Hardy Stevenson and Associates Limited; Ryan Noble, Executive Director, North York Harvest Food Bank; and Jennifer Black, Associate Professor of food, nutrition and health at the University of British Columbia.
They discuss what food deserts look like now in Canada (some examples may surprise you), the simple arithmetic behind food insecurity, how urban planners are tackling issues to food access, and the creative ways food banks are filling the gap.
Episode 5: What Is the Real Cost of Having Our Kids Go to School Without Breakfast?
What's the return-on-investment of a universal breakfast program? Judith Barry, Breakfast Club of Canada, pediatrician Dr. Dina Kulik, and social policy expert John Stapleton, talk about what it means when kids go to school hungry.
Episode 6: The Reckoning Is Coming
CERB cheques put $2,000 in people's bank accounts every month. Why are social-assistance rates, like the Ontario Disability Support Program and Ontario Works, as low as $1,228 or $733 per month? What should these benefits look like, and what would that mean for the province overall? Do they have a relationship with inflation?
We discuss with Garima Talwar Kapoor, Maytree's Director of Policy and Research; Jasmine Ramze Rezaee, YWCA Toronto's Director of Advocacy and Communications; and Noah Zon, co-founder of Springboard Policy.
Episode 7: Food Bank Visits Are a Key Economic Indicator
Food bank visits are a real-time indicator of Toronto's economic health — a canary in the coal mine — that governments may be overlooking. In this episode, we discuss how and why food bank visits can act as a barometer for Toronto's economic wellbeing with University of Calgary's Professor Ron Kneebone. Professor Kneebone and researcher Margarita Wilkins used Daily Bread Food Bank data earlier this year to uncover the direct effects of government policies on food bank usage.
Episode 8: Can We Ever Solve the Affordable-Housing Crisis?
Affordable housing is the No. 1 tool we can wield to eliminate poverty. When rents soar, there is less money in monthly budgets for food and other necessities. Housing is a human right. How do we become a city where everyone is safely housed?
Exploring this topic are experts from the private and public sectors: Julia Deans, Habitat for Humanity Canada President and CEO; Kegan Harris of The Neighbourhood Group; Ian Jones, President of the BGI Group; and David Reycraft of Dixon Hall.
Episode 9: Is Now a Good Time to Talk About a Basic Income?
What would a basic income do for Toronto, Ontario, or Canada overall? What is the cost, and what would be the gain? We talk this through with Professor Evelyn Forget, University of Manitoba; Sheila Negehr, co-founder of Basic Income Canada Network; and John Wright of Maru Public Opinion.
Episode 10: Who's Hungry 2022
This special 10th episode was recorded right from the Daily Bread Food Bank warehouse. Dave Trafford sat down with CEO Neil Hetherington and Diane Dyson, VP of Research and Advocacy (Interim), to discuss some of the most troubling — and most motivating — numbers from our newly released Who's Hungry 2022 report.
Ready to tune in? Listen on Spotify, Apple Podcasts or wherever you get your podcasts.