Join CBC Toronto this December for a monthlong celebration of community and kindness in support of food banks across the GTA.  
You can help make the season kind and be a lifeline to families experiencing hunger. For ways you can support Daily Bread Food Bank and help fight hunger as part of this campaign, read on! 
1. Make a Financial Gift
Your financial gift to Daily Bread through CBC Sounds of the Season will help provide emergency food access to thousands of families experiencing hunger this holiday season.
To donate online, click here.
To donate by phone, call our operators at 1-855-700-SOTS (1-855-700-7687).
This CBC Sounds of the Season Donation Hotline will be staffed weekdays from 8:30 am – 4:30 pm, except for special hours on December 1, 2 and 17, when phone lines will be open:
Thursday, December 1: Here and Now – 7:00 am – 7:00 pm
Friday, December 2: Metro Morning – 5:00 am – 4:30 pm
Saturday, December 17 (SOTS Community Event): 10:00 am – 2:30 pm.
If we are unable to answer your call, please leave a message and a member of our team will get back to you as quickly as possible.
2. Participate in the School Challenge
Run a food drive through your GTA school in support of your local food bank, and you could win CBC Sounds of the Season School Challenge! The school that collects the most food by December 22 (proportional to its student population) will win a pizza lunch for the entire school, courtesy of Pizza Pizza, and an assembly visit by a CBC VIP guest.* Click here to learn more.
3. Become a Sounds of the Season Community Champion
Rally your neighbours and run a food drive on your street, your block, in your building, or throughout your entire neighbourhood.
The first 100 CBC fans who register their food drive and drop off their food by December 17 will receive a special CBC Sounds of the Season toque as thanks.* Click here to learn more.
4. Teach Your Kids through the "12 Days of Giving"
Want to teach your children about the importance of giving and helping others?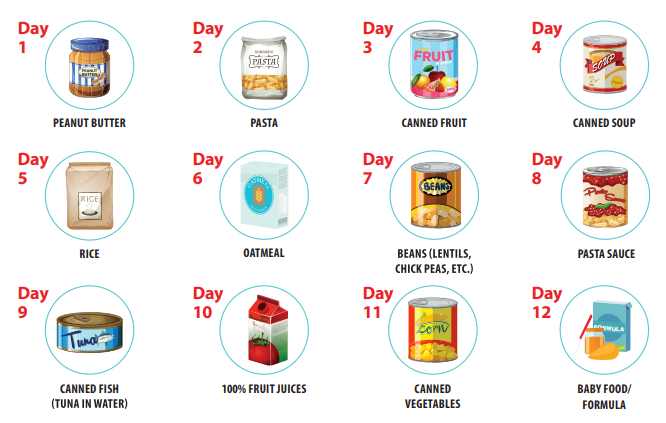 Perfect for families with young children, "12 Days of Giving" is a great activity to prompt conversations with kids about hunger, poverty, privilege, social justice, and empathy. 
Click here to download the "12 Days of Giving" worksheet. 
Click here to see options on how to get your food donation to your local food bank.
5. Join Our Community Event on December 17
Daily Bread Food Bank and North York Harvest Food Bank are hosting a community event on December 17. Stay tuned for more details.
6. Donate Food
The items we need most right now are canned fish/fruits/veggies, oatmeal and nut butters. You can find a printable PDF of these most-needed items here.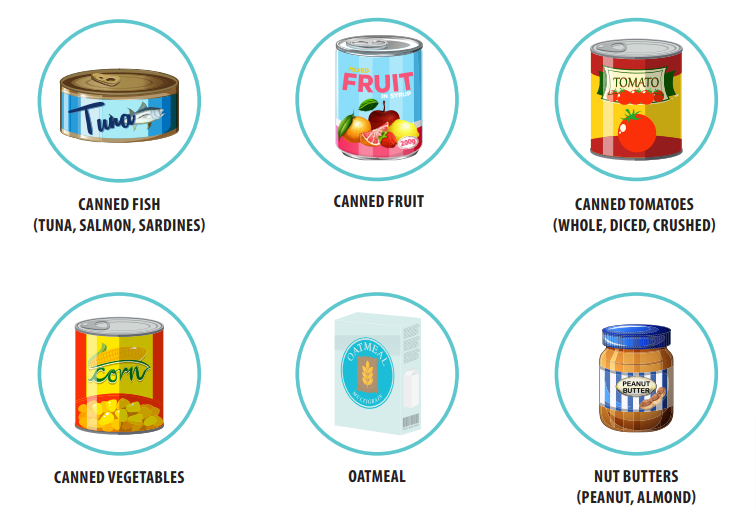 Here's how you can get food donations to us:
Drop off donations at any Toronto fire hall (map)
Drop off donations at any participating grocery stores (map)
Drop off donations directly to Daily Bread's warehouse at 191 New Toronto Street in Etobicoke on Mondays-Fridays from 10:00 a.m. – 3:30 p.m. (drop-off spot here)
Order nonperishable items online from your favourite grocery store and have them delivered directly to our warehouse: 191 New Toronto St, Toronto, ON, M8V 2E7
7. Spread the Word
Tell your loved ones about how you're working to fight hunger this holiday season and rally their support! Together, we can make a difference for our neighbours facing food insecurity.
And don't stop at your friends and family. Tell your local officials that poverty reduction needs to become a priority in our communities. Food is a human right, and no one should face barriers in accessing the food they need. All levels of government must prioritize affordable housing, living wages and sufficient social assistance. To learn more, read our newly released Who's Hungry 2022 report that examines current trends in food bank use and food insecurity, as well as what needs to be done to realize the Right to Food for all.
Need food? If you need food support, please click here.
Thank you for your generous support of Daily Bread through CBC Sounds of the Season!