One year, around Christmas time, Betty Anne Butcher heard a news story on CP24 about how Daily Bread Food Bank needed volunteers. Although she was (and is) working full-time as an engineer, she decided to come in for an orientation. That was 13 years ago, and she's been a regular volunteer ever since. 
"It's so rewarding to be able to give and build a sense of community in this way," she said.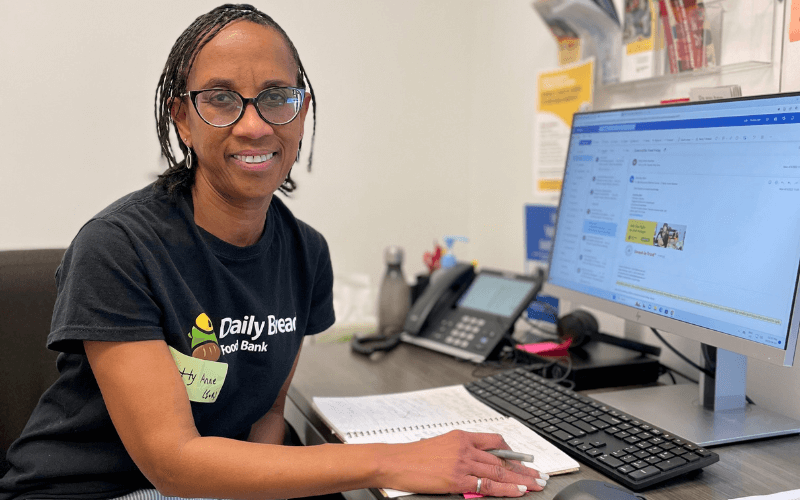 She's spent about a decade of her time at Daily Bread working at our on-site Information & Referral Centre, where she now volunteers two days a week. She fields questions on how to access food; refers clients to get free or low-cost mattresses, eye exams and clothing; and, perhaps most importantly, provides that critical human connection that we all need through shared stories and shared humanity.
She remembers one regular client who hadn't seen her for a few weeks came in one day and was so happy to see her, she exclaimed "Oh, Betty!" and they exchanged a big hug. "Because sometimes, that's really all someone wants," Betty Anne said.
Another time, a client who'd been coming to the food bank (and job hunting) for about a year let Betty Anne know he'd found work, so he thought that day would be his last visit. "That's all you want!" she said. "We hugged, and he was so happy."
Lately, she's been assisting a large number of refugees, especially those from Ukraine. One family came in the other day, and she could "see the relief and happiness on their face when they were able to get registered, to get food and to get information on some resources," Betty Anne said.
It's these moments of human connection that have made the deepest impact on her. "It's a sharing and a welcoming experience from both sides," she said. Clients "lift me up and I lift them up. We're all part of this community together — that's why I continue coming back."
If you're interested in volunteering at Daily Bread Food Bank, please visit our webpage here.