On September 26, Daily Bread Food Bank was thrilled to present our annual Best in Class Awards celebrating the remarkable commitment shown by individuals and organizations working to alleviate hunger and poverty in Toronto.
This year's event was held at the beautiful Artscape Daniels Launchpad and it was an honour to welcome Nana aba Duncan, host of CBC Fresh Air, as our MC for the evening.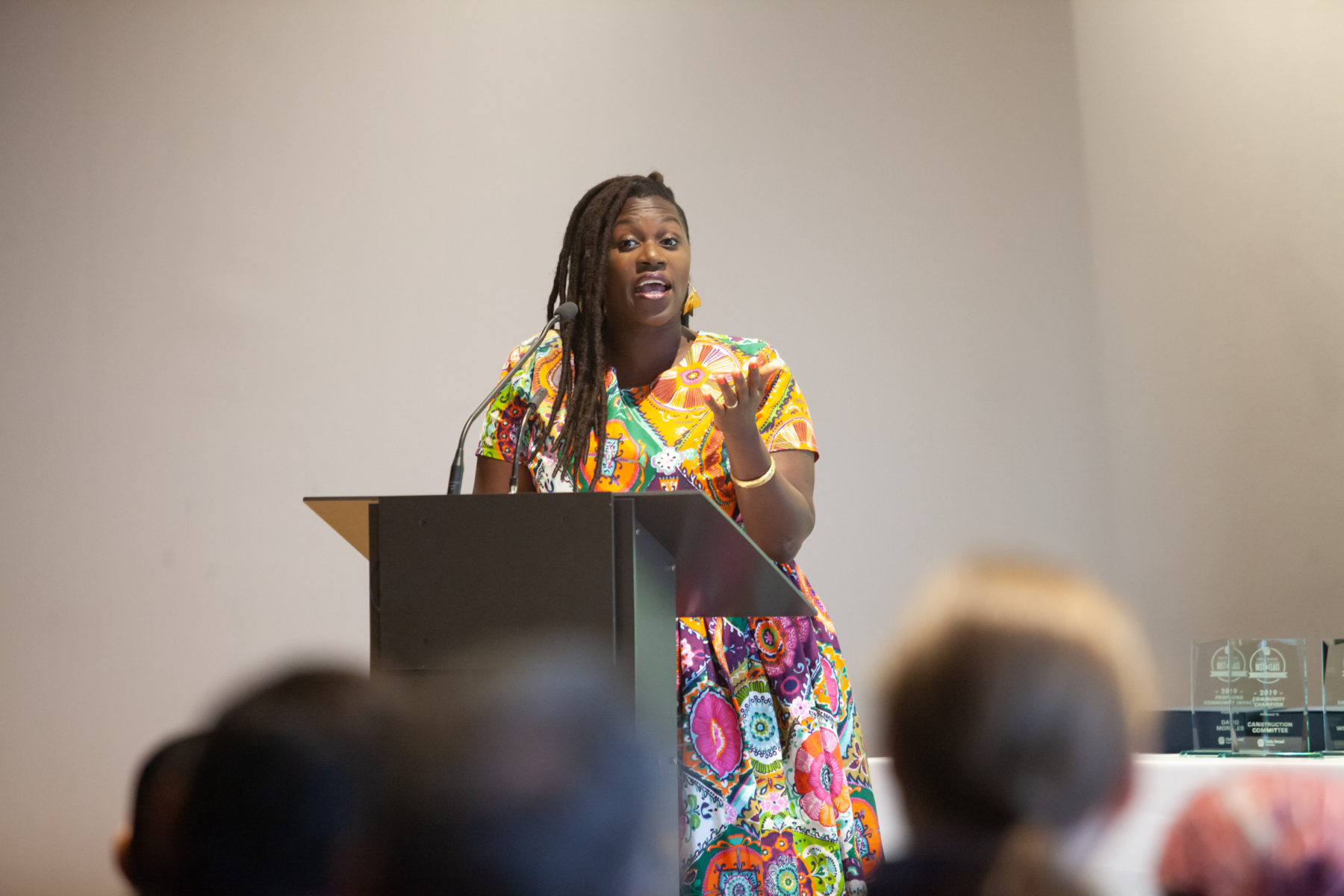 All of us at Daily Bread would like to acknowledge and honour the following 2019 Best in Class Award recipients and nominees:
Corporate Leader
Slalom took home the 2019 Corporate Leader Award. From organizing fundraising drives, and taking part in Daily Bread's inaugural CEO Cook off, along with providing pro-bono consulting services, the team at Slalom is passionate the fight against hunger.
Corporate Leader Award Winner – Slalom
Congratulations to DLA Piper Canada and Corus Entertainment on their nomination.
Community Champion
Congratulations to CANstruction for winning the 2019 Community Champion Award. This year's competition of incredible structures made of canned food, raised a record-breaking 85,421 lbs of food for our neighbours in need.
Community Champion Award Winner – CANstruction
Congratulations to Give30 and Sarah and Claire's Food Drive on their nomination.
Food Industry Trailblazer
Bravo to Ontario Potato Distributors for receiving the 2019 Food Industry Trailblazer Award. OPDI has been donating to Daily Bread on a weekly basis since 2017, totaling 128,756 lbs of potatoes in the past year alone. Thank you to John Giordano and the rest of the team for donating essential food items that might otherwise end up in a landfill.
Food Trailblazer Award Winner, Ontario Potato Distributor Inc.
Congratulations to ATV Farms and Minute Maid Canada on their nomination.
Exceptional Volunteer
Trevor Neal was the recipient of Daily Bread's 2019 Exceptional Volunteer Award. Thank you Trevor, for inspiring deeper involvement and unwavering compassion for the communities we serve, particularly through your mentorship at the New Toronto Street Food Bank.
Exceptional Volunteer Award Winner – Trevor Neal
Congratulations to Ann Stephenson and Ruth Woodley on their nomination.
Outstanding Food Program
Congratulations to Youth Unlimited Light Patrol for receiving the 2019 Outstanding Food Program Award. Light Patrol's commitment to serve homeless and street-involved youth with respect and dignity, while providing flexible support services around their needs is exemplary.
Outstanding Food Program Winner – Youth Unlimited Light Patrol
Congratulations Storefront Humber Inc. and The Lighthouse on their nomination.
Profound Community Impact
David Morales of Toronto Community Housing Corporation, received the Community Impact Award. With David's efforts and support, Daily Bread community programs including the food bank at Mornelle, and our Summer Produce Markets in Scarborough have been seamless and impactful. Way to go David!
Profound Community Impact Winner – David Morales
Gail Johnson, TCHC, accepting on David's behalf.
Congratulations to Allan Gardens Food Bank on their nomination.
Visionary Drop-in Program
Hats off to Sistering for taking home the 2019 Visionary Drop-in Program. The team at Sistering works tirelessly to advocate and support vulnerable women who are homeless and precariously housed, along with providing practical supports and dignified service to their clients.
Visionary Drop-In Program Winner – Sistering
Congratulations to Christie Ossington Neighbourhood Centre and St. Stephens Community House on their nomination.
A very special thank you goes out to the community for publicly nominating these inspiring change makers! And a thank you to the Best in Class Awards Selection Committee, comprised of Daily Bread staff and volunteers; Daily Bread's Kitchen team for providing delicious food right from our kitchen, and to our generous beer sponsor Great Lakes Brewery.
Click here for all the highlights from this memorable evening!